---
Navaratri
Navratri - Day-9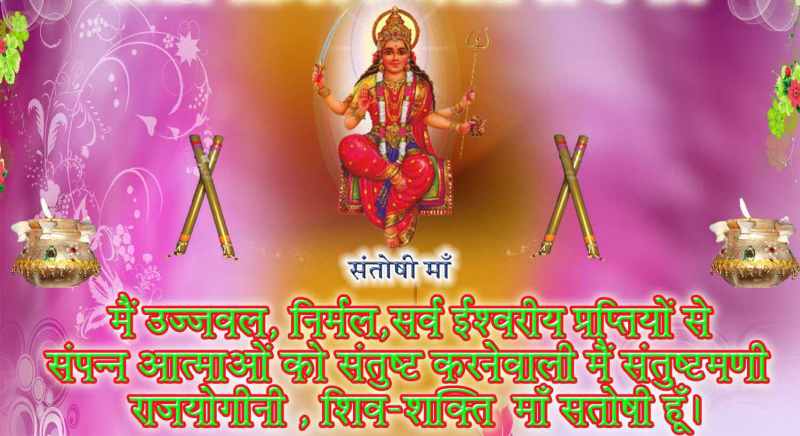 Main Ujjwal, Nirmal, sarva Ishwariya praptiyon se sampann, asantusth atmaon ko santusth karne wali me Santushtamani, Rajyogini, Shiv Shakti MAA SANTOSHI hun.

I am Santoshi Devi. I am satisfied with whatever I have got from Baba in life.
I am absolute of contentment, pure, bright and full of Godly accomplishments who quenches
the thirst of empty souls and fulfils the desires of the unsatisfied ones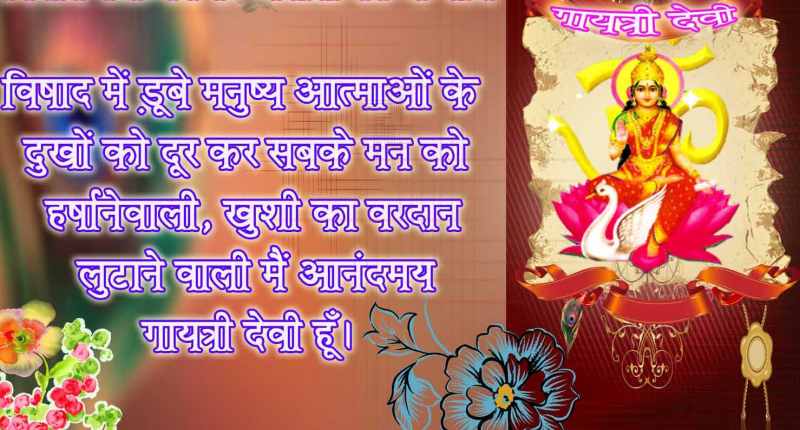 Vishad me dube manushya atmaao ke dukho ko door kar sabke man ko Harshane wali,
Khushi ka vardan lutane wali me Anandmye GAYATRI DEVI hun.

I am Gayatri Devi. I am Blissful whose blessings fills everyone's mind
with joy and removes sorrows of a world lost in vices
---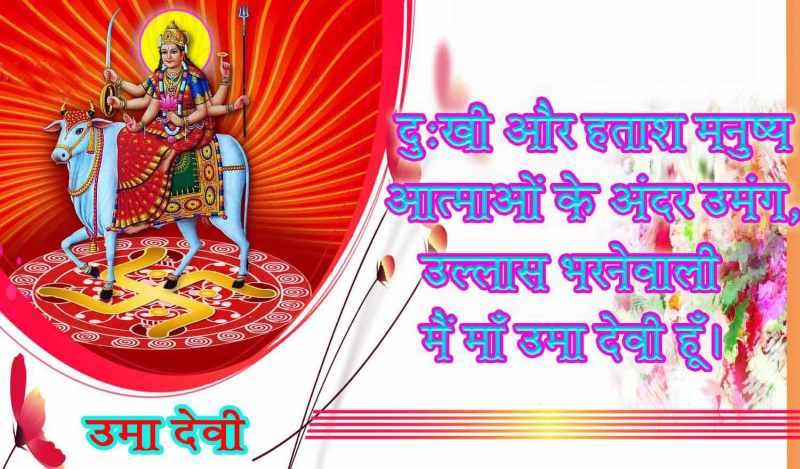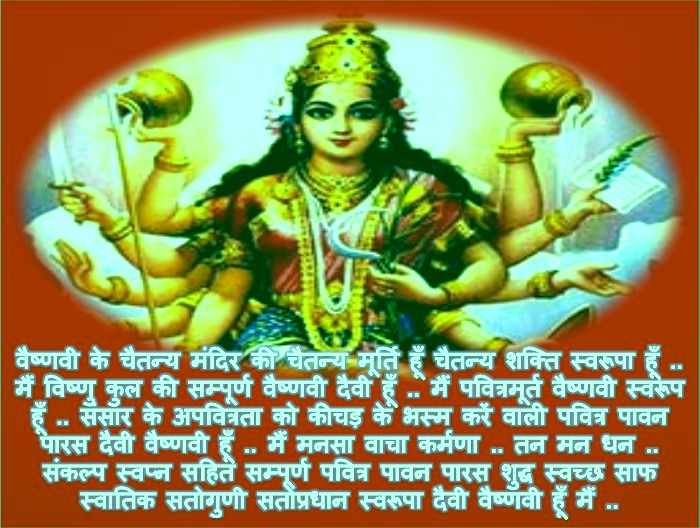 ---
Vishay-Vikar mitakar sarva manushya matra me Pavitrata ka prakash bhar unhe
Devatva pradan karane wali me VAISHNAVI DEVI hun.
I am 'true Vaishnav' and Vaishnav are always Pure. The main ingredient in their personality is "PURITY". Shiv Baba, the ocean of PURITY is making my personality complete by bestowing purity in me. I am helping others to attain the state of deity filled with the light of purity that erases all traces of vices and negativity.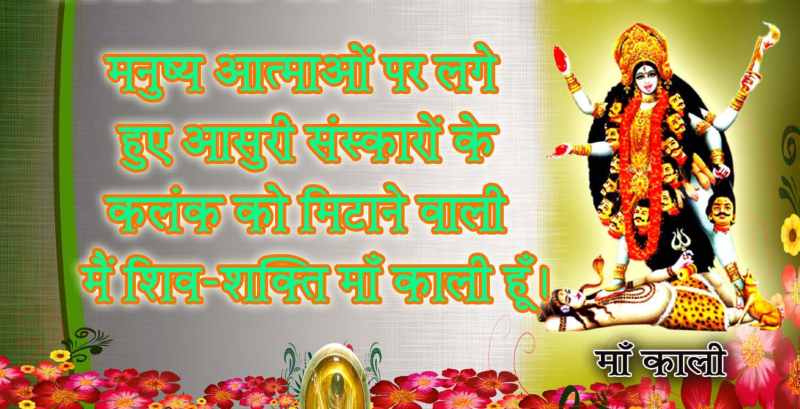 ---
Manushya atmaao par lage huye Asuri sanskaro ke kalank ko mitane vali me Shiv Shakti MAA KALI hun.
I am Mahakali who is going to change the perception of the soul who come towards me with negative thoughts. I destroy the curse of devilish attributes from human souls.
Navratri - Day-4
---
Gyan veena jhankar dwara sab ko agyan andhkar se Prakash ki aur le jane wali me Shweth vastra dharini, HansVahini, Tapasvini, BrahmaKumari MAA SARASWATI hun
---
I am the one who is selected by Baba among all to deliver Baba's Divine message to everyone.
I am Goddess of knowledge dressed in white bringing others from darkness to light
by playing Sitar of knowledge
Navratri - Day-3
---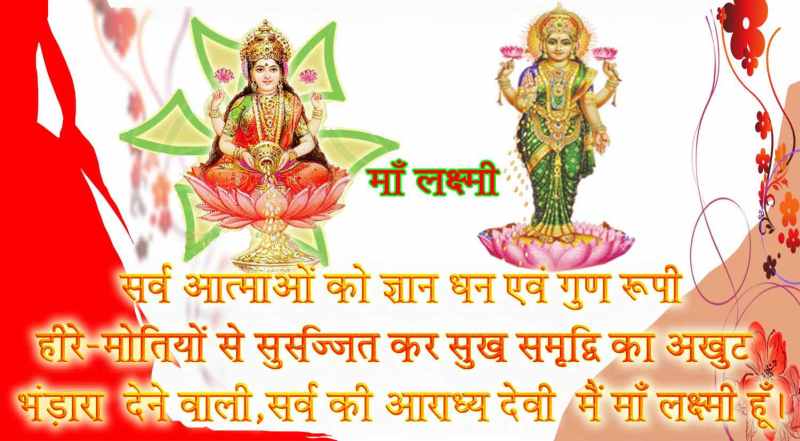 ---
Sarva atmao ko Gyan dhan aur Gun rupi hire motiyo se susajjit kar sukh samrudhi
ka akhut bhandara dene vali, sarva ki aradhya devi me MAA LAXMI hu.
---
I am the one who is filled with the wealth of Supreme knowledge which is perpetual.
I Bestow upon others limitless happiness and prosperity through giving them the diamonds
and pearls of the treasures of knowledge
---
Day-2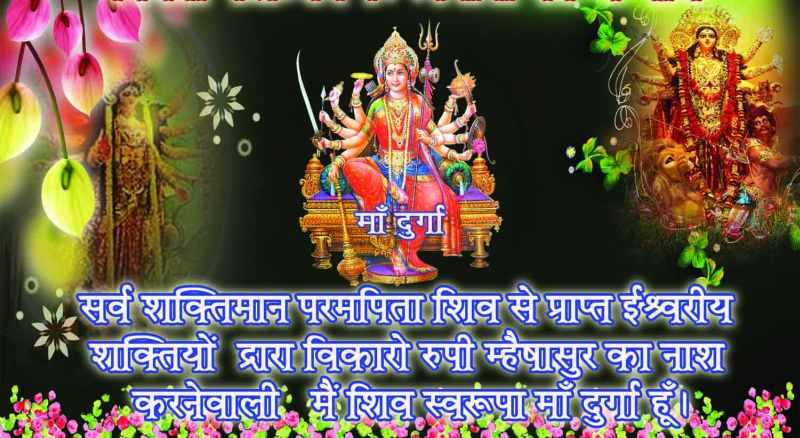 Sarva shaktivan Paramatma Shiv se prapt Ishwariya shaktiyo dwara vikaro rupi
Maishasur ka nash karne wali me Shiv Shakti swarupa MAA DURGA hun
---
I am the one who is going to destroy all the vices of Maya and Ravan
from the divine powers obtained from almighty father Shiv Baba
---
Day-1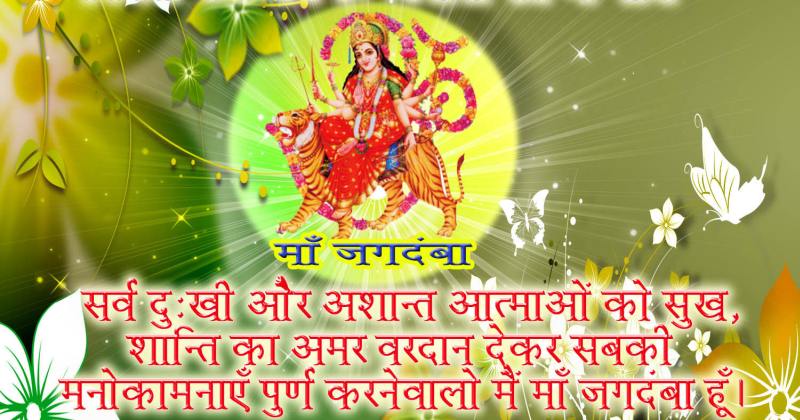 Sarva dukhi aur ashant atmaao ko such, shanti ka amar vardan dekar
sabki mano kamnaye purna karne vali me MAA JAGATAMBA hu.
I am Jagat Amba (Mother) of the whole world.
I need to take care and also mercy on the souls of the world
by giving eternal blessings of peace and happiness
to all sorrowful and peace less souls and fulfilling all their pure desires.
---